Salam to all my readers.
The end is getting closer. Tomorrow, we will find out who is gonna walk away from the Nokia Theater Los Angeles as the new American Idol. Will it be Scotty McCreery or Lauren Alaina? Both are comfortable singing Country songs and they are the youngest top 2 ever in American Idol history.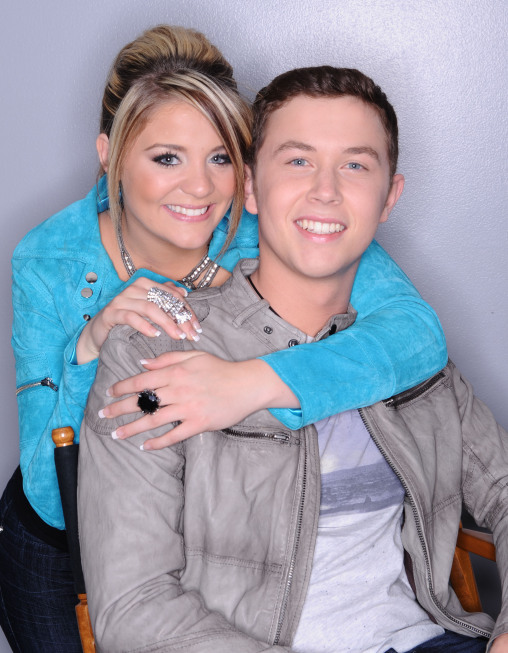 On the first part of American Idol Finale, both Scotty and Lauren performed three songs, as you all already know. Scotty sang 'Gone', 'Check Yes or No' and his new original song, 'Love You This Big'. His contender, Lauren chose to sing 'Flat on the Floor', 'Maybe It Was Memphis' and a cover song from Kristy Lee Cook
(previous American Idol finalist)
entitled 'Like My Mother Does'.
I just told you guys the facts of the one-hour finale but the truth is, I think this is the dullest finale ever, right after Crystal and Lee duo last season. You see, both of them sing Country songs and I have nothing against the Country genre in fact there are some Country songs that I really like BUT this is different. I was kinda like saddled with six Country and Western songs that some of the songs was the songs that I never heard of. Thanks to Lauren for her ability to sing from her heart that made her last performance kinda brought tears to my eyes. It would probably be interesting if Haley is in the finale. At least we have two singers belt out two different genres.
But whatever it is, the finale has end and now it's up to the American to choose their next idol. If you ask me, hurmm, lets look at this chronology first. I wanted Pia to be in the top 2, but she got eliminated in top 9. Then, I put my trust in Haley and prayed so that she can make it to finale. Again, my dream was crushed. I am left with no choice but to choose Lauren to win because she got distinctive voice and she can sing high note pretty well.
So, lets wait for the result show to see whose name Ryan going to announce at the end of the show. They got so many singers going to perform on that night and damn, they neglected David Archuleta. I really hope they could call Archie to perform his latest single live. Damn it!